MilesWeb Review: Yay or Nay to Start Your Own Hosting Business?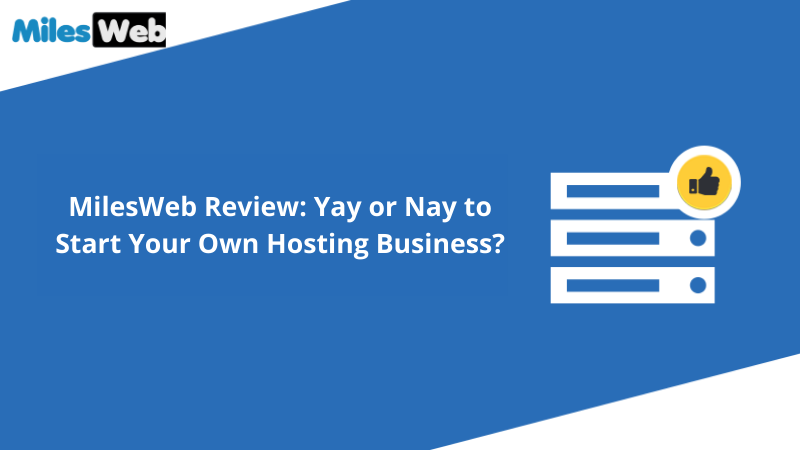 The demand for web hosting is increasing and most of the people are moving forward to set up their own web hosting business. Reseller hosting is the best choice for them as they don't need to invest more to start their business. Though the rising entrepreneurs are found to be using reseller hosting, it doesn't mean that it is made for them only.
If you are interested in starting a web hosting business and have basic knowledge about it, you too can select this option. You can use the resources for your work as well as manage to offer some of them to other users at an affordable price.
Though you won't have a large customer base, you can sell the hosting to just 2 to 3 users. This also won't limit your resource usage and will allow you to offer part of it to your customers. This indicates that reseller hosting is a very flexible option that enables you to handle small to large customer base without any issues.
Selecting the best hosting provider for your business is very important. This is because the service you will offer to your customers will depend on your hosting merchant.
Therefore, for making your tension free, I am going to showcase the best reseller web hosting provider of Australia. I have used the hosting from 4 companies which included big brands as well as local providers. But I couldn't leave MilesWeb and so thought of sharing their review with you.
About MilesWeb
Started in the year 2012 MilesWeb was started with the aim to provide the best of the hosting features. Though the duration seems to be small, they have already hosted over 16000 websites and have an increasing list of happy customers. Their founders and employees are well experienced and so, all the queries of customers get resolved easily.
You will find the best of hosting features at a very reasonable cost. When I was a newbie I bought a shared hosting plan from them, and steadily my trust on them has grown. Now that I have completed 2 years, I decided to start my web hosting business, as many of my clients were encouraging me to start my own web hosting business and offer them the services.
Hence, with web development now I also offer web hosting to my customers and MilesWeb has always has been with me in this hosting journey. For those who don't know about their reseller hosting plans, here's what they offer.
MilesWeb Reseller Hosting Plans (Be AatmaNirbhar)
Linux Reseller Hosting Plans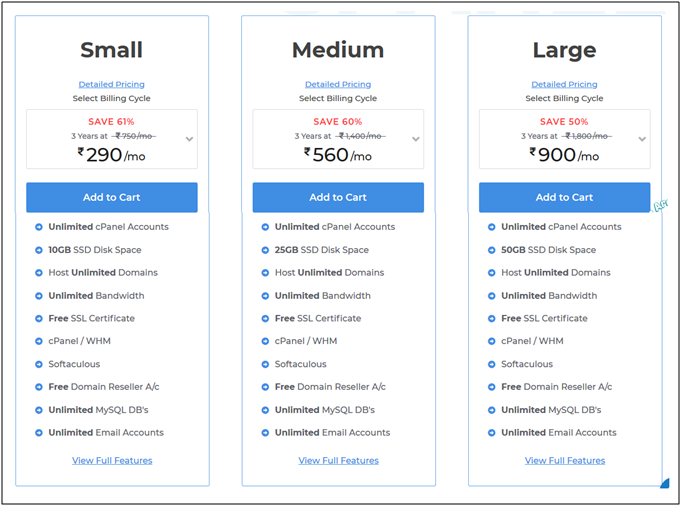 Windows Reseller Hosting Plans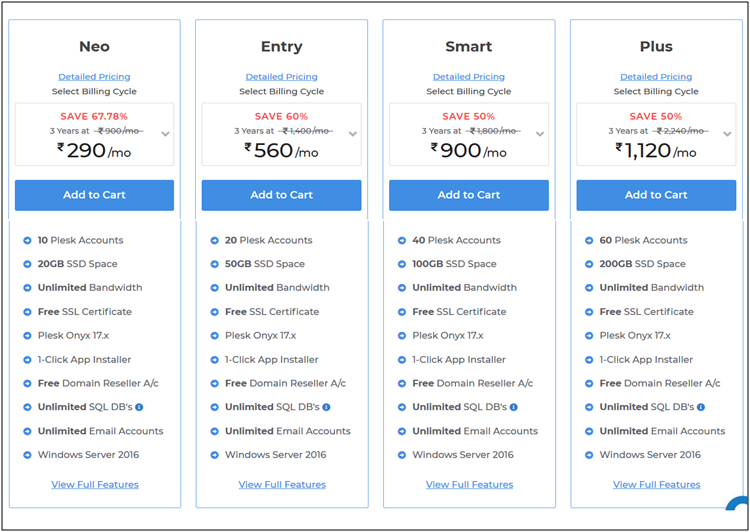 Reseller Hosting Features
Free Migration: They offer free website migration and migrate your website at your preferred time with complete care of your website data.
Free SSL Certificate: SSL certificate helps in increasing the trust of your visitors as well as your website's ranking in Google. So, they make sure that every website hosted on their servers gets an SSL installed on it.
Free Domain Reseller: They help you to earn extra by offering a free domain reseller account. You can sell over 400 domain extensions and TLDs to your clients.
Host Unlimited Websites:They haven't restricted the number of websites you can host. You can host as many websites as you want to with their reseller hosting.
100% White Labeled: You don't need to hide you name while selling services to your clients. Your name can be used for selling web hosting services and they won't display their name anywhere on your website.
100% SSD Storage: You can store data at a faster rate with their SSD storage. The flash technology is used by SSDs and this helps in better performance as compared to HDDs.
Web Host Manager (WHM): WHM makes it possible to create as well as manage multiple cPanel accounts with unlimited websites, emails and more.
cPanel Control Panel: You can offer complete cPanel access to your clients too. The simple and easy-to-use web based interface helps in managing their websites, domains and emails. You can monitor the disk space and bandwidth and also get the rights to suspend, unsuspend and terminate the clients' accounts.
One-Click Installer: Installing over 400 applications is possible ion just a single click with the one-click app installer tool, Softaculous.
Free Website Builder: You as well as your clients will find it very easy to create a website with the free website builder. Just drag and drop and create your website.
Datacenter Choice: Select the server location as per your audience's location. They offer server locations in India, U.S.A, U.K, Australia, Singapore and Canada.
Malware Scan & Protection: Your website will always stay protected from the malware and viruses with their malware scan tool. If there is any malware detected it is found and removed by this tool.
Email Service: You can send and receive emails from your domain by setting up a professional business email id. Also, the browser based Webmail supports IMAP/POP3 email accounts and enables you to access emails from anywhere.
Conclusion
Reseller hosting is one of the easiest ways for web developers as well as other users to earn extra income with their existing business.
May it be any reason for starting a web hosting business but it is essential to select the best web hosting provider. This is because not only your but also your customers' websites are going to be hosted on their servers. So make sure that the web hosting partner you select is reliable and trustworthy.
However, when it's MilesWeb, it is always "yay".